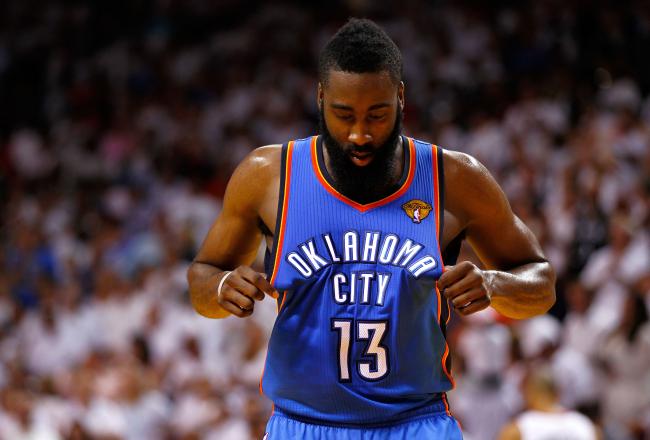 It was reported last night that the Oklahoma City Thunder have opted to trade their prized Sixth Man of the Year,
James Harden
, to the Houston Rockets. In exchange the reigning Western Conference champions will receive sharpshooter
Kevin Martin,
upcoming talent
Jeremy Lamb
, and future draft picks. A frenzy ensued on Twitter shortly after it was reported. Most comments were driven by utter confusion and disbelief, contending that this trade might have literally just eliminated the Oklahoma City Thunder from a second consecutive Western Conference title. There is much to speculate about how this trade will impact OKC in the long run, mine indicates that the Thunder may have taken a step backwards for this upcoming season.
James Harden's contract extension has been up in the air since Oklahoma City's season ended back in June. There were question marks going into the London Olympics, and it was even rumored at one point that Harden would be going to Phoenix. Despite the rumors, Harden made sure to publicly state on many occasions that he was willing to receive less money to stay with the Thunder. No problem. But in negotiating his new contract, Harden believed he was worth a max deal (4 years-$60 million) which few would argue. Still, OKC's offer remained less than his request at 4 years-$52-54 million. Long story short, James Harden did not 'leave' OKC. They offered him less than his market value, he said no, and they abruptly traded him for what GM Sam Presti felt was his best shot at replacing him.
What Oklahoma City will miss most from James Harden is his contributions on the offensive end, particularly in those moments when Russel Westbrook's decision making goes from lethal to questionable. Harden's playmaking ability not only made him the Thunder's best distributor and pick-and-roll player, but turned him into Oklahoma City's bail bondsman on countless occasions. Sure the 22-year-old significantly underperformed during his first NBA Finals, but the footage against Dallas, Los Angeles, and San Antonio clearly suggests that the Thunder would not have made it there without Harden's playmaking and big time shot-making abilities.
With the addition of
Kevin Martin,
Oklahoma City becomes even more of an already established jump shooting team, many times to a fault. 38% of James Harden's shots were in the restricted area (inside the paint) last season. Kevin Martin? 14%. Also, Harden played 464 total minutes without his other two stars (Westbrook, Durant) on the floor last season. Westbrook only played 13 minutes without the other two while Durant played 38. I'm not so sure Kevin Martin is ready to fill that kind of void. Martin has never been the kind of player to put the ball on the floor and make plays for others. On the contrary, others make plays for him, looking to get him open shots. I must say, the addition of young
Jeremy Lamb
is intriguing. His development could potentially skyrocket alongside the likes of Kevin Durant and others. Still, his youth is what could deter him from making an immediate impact on the Thunder's championship chances this season, making him more of a long term investment.
Forget the fact that OKC now has to adjust to new teammates, develop chemistry, and find ways to help Martin and Lamb adjust within the offense. The Oklahoma City Thunder no longer have a credible "Big 3". Until otherwise they are now left with, at best, a big 2.5, with their dynamic duo of Westbrook/Durant now likely needed to do much more than they already have without arguably their best
playmaker
in James Harden. I think by the end of this season, OKC fans will be forced to unpleasantly reiterate what Kevin Durant tweeted just last night after the trade went down, "Wow".
- Martin S.
@marley_mcfly